NEWS FLASH:
BUILDING A STRONGER COMMUNITY - new members always welcomed.
Please contact us to find out ways that you can help build a stronger community through being part of our club. Opportunities for players, administrators and supporters.
The 2019 Annual General Meeting of Cranebrook United Football Club will be held on
Monday, 28th October, 2019, commencing at 7:30pm at Cranebrook High School.
Nominations are called for the following positions for the 2020/2021 Executive Committee:
 President  Secretary  Treasurer
Executive Committee positions are 2-year terms and members may only be nominated if they have served on the Club Committee for the past 2 years.
CUFC also welcomes nominations for General Committee positions. General Committee members may assist the Club in many ways including acting as a ground official, attending club committee meetings and looking after a specific portfolio as appointed by the Executive Committee.
Nominations for Executive and General Committee must be made in writing, signed and dated by 2 club members, accompanied by the written consent of the nominee and received by the Club via post, delivery or email by no later than Monday 21st October, 2019. All members making nominations, seconding nominations and nominees must be fully financial members of the club.
Members are also invited to submit a nomination for Life Membership where the nominee may be elected as a Life Member at the Annual General Meeting. Nominees must have contributed outstanding service to the Club for a minimum period of not less than ten
years. Nominations must be made in writing with a discussion of why the nominee deserves to be honoured as a Life Member. This should be signed and dated by 2 club members and received by the Club via post, delivery or email by no later than Monday
7th October, 2019. All members making nominations, seconding nominations and nominees must be fully financial members of the club.
As the year draws to a close.......
A Shout Out to........
the following people - all Volunteers - for the time and effort they have given to help run the Club this year.
⚽ our wonderful Committee, who take on an ever-growing workload;

⚽ our awesome coaches, who train, develop and inspire our players of all ages;

⚽ our fantastic managers, who organize our teams superbly and act as our conduit to them;

⚽ and to our the sponsors, community members, players & families who supported the club.
Your contribution is very much valued and strengthens our community and club. THANKYOU! THANKYOU! THANKYOU!
Presentation Events:
Three fun filled events where our club members had the opportunity to celebrate with their team mates.
Kick Off Kids , U5 - U8: Saturday 14 Sept
U9 - U16: Sunday 22 Sept.
Senior Presentation: Saturday 28 Sept.
U14 Girls Win Nepean Cup Final.
Jessica opened the scoring and the girls led 1-0 at HT. We made it 2-0 after the break when some great play from Siobhan created a goal for Tahlia. But Springwood fought back to 2-2 to force extra time.
With the last kick of the game before penalties, Tahlia scored her 2nd and we won 3-2 in a thriller!
CHAMPION of CHAMPIONS - U16Girls team
Our U16 girls played their Champions of Champions round of 16 match against Southern Tablelands (ST). Just the 4th team in our club's history to win div 1 and represent NFA in the competition. The sun was shining and a gentle breeze made conditions ideal for football. After a delay to the start time, the girls came out firing and went to an early lead. Although the girls dominated possession, the opportunities just couldn't be finished off on the day. The match finished with ST winning 2-1.
The young ladies can certainly hold their heads high and they made us proud.
CHAMPIONSHIP SERIES TOURNAMENT Finals - done and dusted.
AAM10 lost 1-0
IM3Black lost on penalties
AAM8 won on penalties
AAW5 lost 6-0
U16G1 lost 3-1
AAW3 won 4-0
Great effort from all teams.
What a week!
As the league draws to a close.........
Winning comes in many forms. For our U12 Div 2 team and our Friday night O35s team, their first wins for the season in their matches is their win. Neither team gave in throughout the season, and their persistence won through. Congratulations to both teams!
With matches to spare, the AAM Div 8 and the AAW Div 3 teams won their league. They cruised in! Congratulations to both teams!
Then there are the league competitions that do it the hard way. Our AAM Div10 team went into a night match knowing they had to win by at least 3 goals to draw the league title. On Tuesday night, the men did just that. It then went to same points, same goal difference, same number of wins, draws and loses during the season, but looking at the total number of goals scored throughout the season, they are the league winners. Congratulations!
The U16Girls Div 1 team did it a different way. They received a devastating forfeit on Wednesday. Hoping for a big win in that match, the 3-0 result looked to have cost them the chance at winning the league which was coming down to goal difference. But on Sunday, a miracle occurred when Blue Mountains lost their match to Springwood leaving the U16 Girls as outright league winners! Congratulations U16Girls Div 1 team.
Our U5-U11 teams continue their fun games for the next few weeks, along with the competition teams in 10 team competitions. For the 8 team and 6 team competitions, it is now onto the Championship Series Tournament.
We are a Level 3 good sports club! And it appears we're the first club in NFA to achieve this status.

We're working hard to ensure our club is family friendly and that our members and volunteers get to and from our club safely.

To find out out more of what this means, head here: Good Sports Level 3
Successful GK clinic
Many thanks to James from NFA for conducting our GK clinic. The kids really enjoyed the action packed fun and learnt many valuable skills along the way. It really was a fabulous opportunity to increase skill and confidence.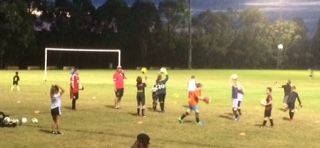 ALDI KICKOFF PROGRAM KICKS OFF FOR THE YEAR
| | |
| --- | --- |
| Our youngest club members joined in the action on the weekend with the start of our Kickoff program for the year. There were smiles and hifives all around. | |
MATTHEW WINS WSW Powerchair Player of the Year.
Congratulations Matthew Mallows on winning the 2018 Powerchair Player of the Year at the Western Sydney Wanderers Medal Night. You have been, and continue to be, an inspiration to many people. The club and community are proud of you.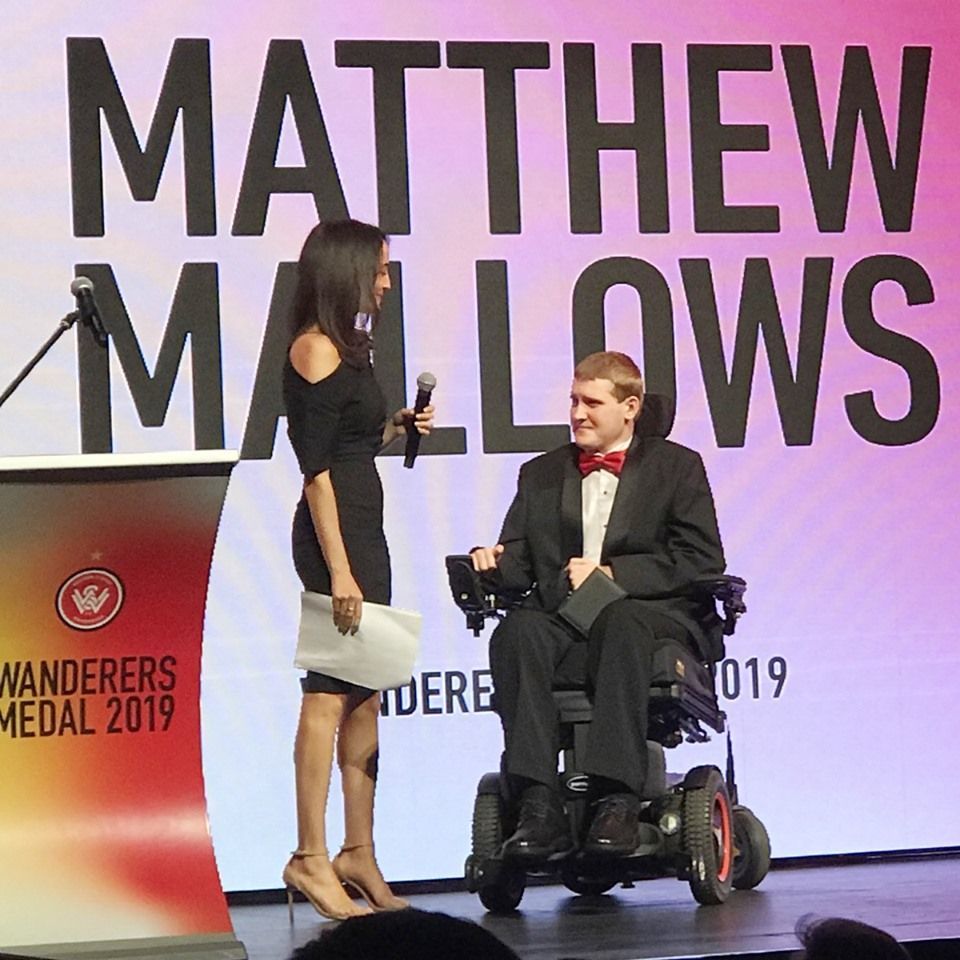 Friday Nights Come Alive at Andromeda.
In an historical move for the club, Cranebrook now has FRIDAY NIGHT FOOTBALL. Our O35 Div 2 Friday night team play Friday nights, giving the opportunity for all club members to witness the skill and enjoy the thrills that night time football provides. Bring a blanket and pack some snacks and head on down to Andromeda. The men will be playing on the Western Field.
Would be wonderful end to the school holidays for the kids, and an excellent night out for families.
| | |
| --- | --- |
| Friday Night O35 team, 2019 | Rob gives his approval of the move. Enjoy your Football! |
BLACK ARM BANDS - ALL participants in ALL matches 13-14 April, 2019.
Earlier this year, the club farewelled one of its life members, Rob Hamilton. In remembrance of Rob, and as a mark of respect to the man who gave so much of his time and energy to strengthening our club, all club members are requested to wear black armbands during matches this weekend for both home and away matches. Participants are encouraged to observe a minute's silence prior to kick off of their matches as well.
Managers are asked to notify the ground official so that the match officials and opposition teams are aware of the significance behind the bands and the requested minute's silence.
Rob, this weekend is dedicated to you.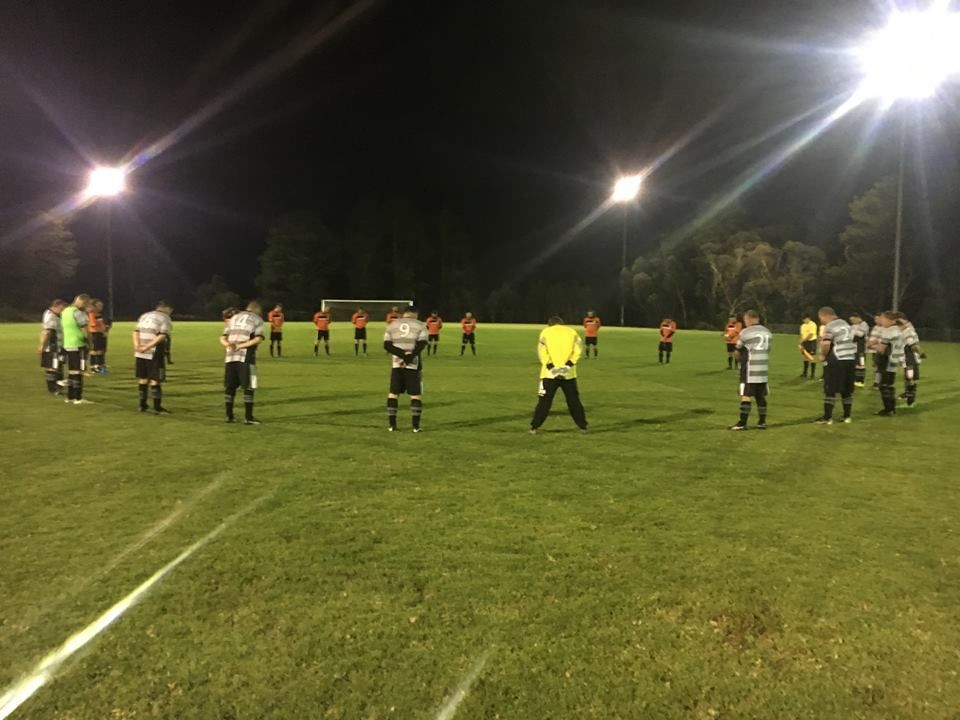 Thank you Stuart Ayres who has generously provided our club with $7500!
It's great having the NSW Minister for Sport living in our community. He has contributed to many projects for us including his support for the recent top marking of the western field, installation of the stage 2 field lighting, upgrade of the electricity supply and the upgrade of the canteen through the Asian Cup Legacy Fund Grant.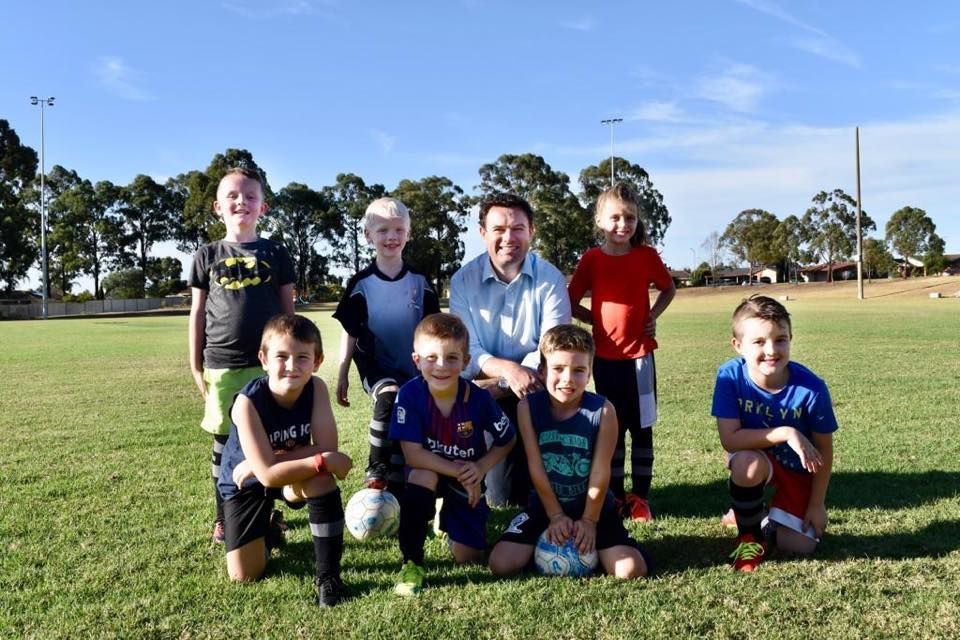 VALE ROB HAMILTON.
It is with great sadness that we advise our club and community members of the passing of one of its life members, Robert Hamilton. Rob played a vital role in the administration of the club for many years and was a frequent visitor to Andromeda since his retirement from the committee.
Our heart felt condolences are extended to Cindy and her family at this difficult time.
Robert's family invites those who knew him well and wish to pay their respects to join them at the service next Monday.
May he rest in peace.
Coach Accreditation:
CUFC encourages all coaches to seek accreditation. For 2019, all Kickoff Game leaders, U5-U10 coaches and all Division One coaches MUST be accredited.
The link to register for all courses is www.playfootball.com.au/coach/find-a-course
REGISTRATIONS ARE NOW OPEN FOR 2019 WINTER PLAYING SEASON.
There's a new registration site this year www.playfootball.com.au/register
EVERYONE will need to upload a new photo but luckily it's all mobile compatible so just take a passport style selfie.
Reminder to all parents to take advantage of the Active Kids Voucher!
www.service.nsw.gov.au/transaction/apply-active-kids-voucher
Also, every coach, manager and committee member MUST complete a working with children check (if you've done it before, you should check it's still valid)
www.kidsguardian.nsw.gov.au/chi…/working-with-children-check
Rego fees for U5-U16 include all match fees!
Match fees for Prems are $10/match and all other Sunday teams are $7/match
The specified age groups are the age that your child is turning in 2019. E.g. U10 is for children born 2009.
Registrations are also open for our Kickoff Program [U4-U5]. Head to https://membership.sportstg.com/regoform.cgi?formID=83804&programID=44492 to register. Rego fee for Kickoff Program $60.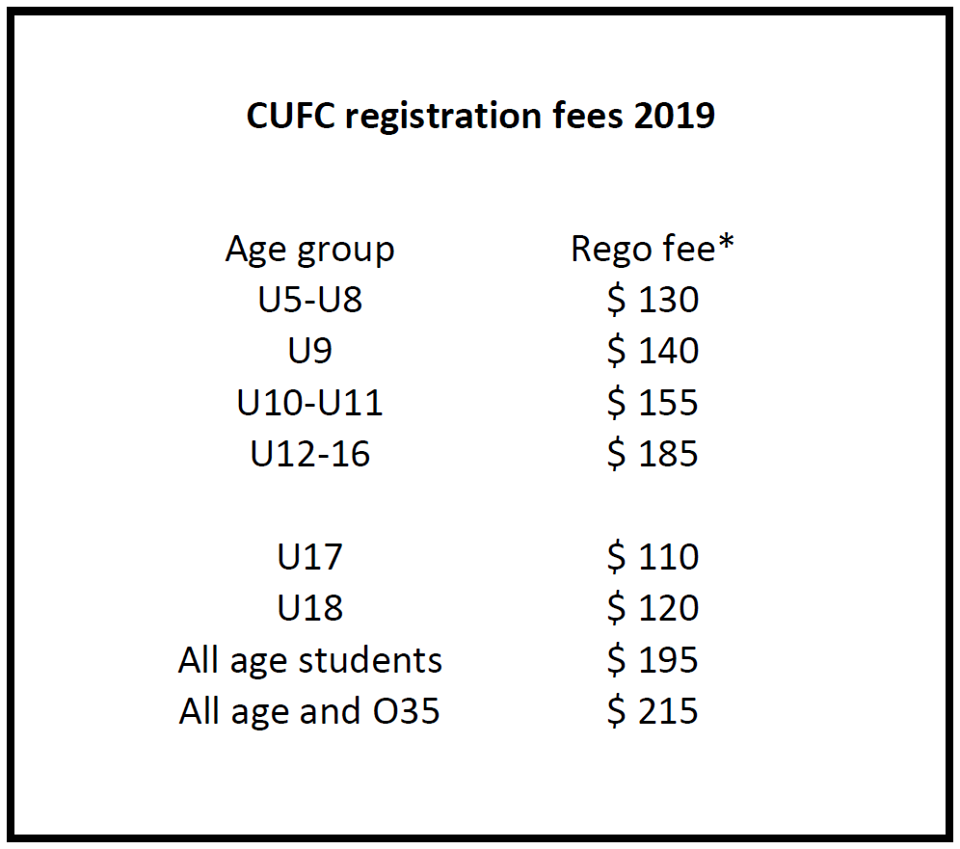 Kickoff Kids and Miniroo Presentation
Wow! It would be wonderful to be able to bottle the energy and enthusiasm of our youngest club members. Over 200 members climbed, slid, bounced and played at Go Bananas on 22 September before receiving their trophies and feasting on chips and chicken nuggets. The smiles on the kids' faces was testimony to their enjoyment.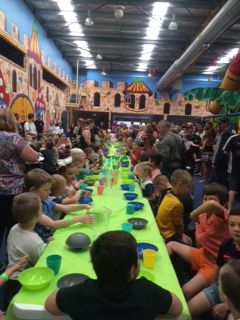 Senior Annual Dinner & Presentation
As the doors opened, laughter filled the air, welcoming the 115 club members and guests at Peachtree for the 2018 Dinner and Presentation. The night settled into the presentations where team awards were presented and club awards were eagerly anticipated before being presented.
It was a night to celebrate.
Congratulations to
Senior team of the year: AAW Div 4
Sportswoman of the year: Shanice P.
Senior clubperson of the year: Jai P.
10 Year service Awards:
Paul D., Kassidy M., Ian C., Derek J.,
15 Year service Awards:
Kimberley C., JP., Geoff H., Ryan S., Guy T., Stephen D.,
25 Year service Award:
Steve S.
10 Year service Awards:
Matthew M., Mark P., Justin D., Jayden K., Daniel K., Connor H., Cody B., Brandon M., and Blake W.
U12 - U17 Coaches and Managers:
Our sincere thanks for the neverending work you have done throughout the season.
Andromeda Just got a Whole Lot Brighter.
The club was very pleased when it received notification that our grant application had been successful. Then came the business of working with PCC and FNSW to make the project come alive. After 10 months, last Tuesday 17 July at 5pm Stage 2 of our night light project lit up as the new lights were turned on.
Onward we march! Over the coming weeks, you'll notice EVERYTHING in the canteen being packed away, This is in preparation of the canteen upgrade which is due to start in September and is also part of a successful grant.
| | | |
| --- | --- | --- |
| | | |
| Andromeda at Zero. | Green Weekend. | Andromeda just got a whole lot brighter! |
Defibrillator for Community Wellbeing.
Yes! It is here. Thanks to everyone who helped make it a reality. Nice to know the club has it if it is needed.
Working together, we made this happen!
RESPECT is everyone's game winner. The club has a zero tolerance for disrespectful behaviour.
As you enjoy our beautiful game, please remember RESPECT is the key word.
Reward good play by both teams with applause; if you can't then shoosh!

Show respect to players,club and match officials. Remember it's their game too.
A MustWatch Video for all Football parents.
Or perhaps this one!
Coaching Couses
Coach education courses are available. Please visit NFA website for details of courses.
*********************
Zero tolerance for abuse: both on the park and the sideline.
Field Status
ANDROMEDA
End of Hire period
Please avoid any wet patches or worn patches.
Safety for Everyone at Andromeda - click here for the guide.
There is to be no training on worn areas, wet areas & in penalty areas.
Where possible please use off field areas.
SHERRINGHAM FIELDS
End of Hire period
(Update Sept 2019)