NEWS FLASH:
Cranebook United FC appreciates the support from

SYNERGY SECURITY GROUP.

For your security needs, please contact Marc.
BUILDING A STRONGER COMMUNITY - new members always welcomed.
Please contact us to find out ways that you can help build a stronger community through being part of our club. Opportunities for players, administrators and supporters.
Trials for 2019 Teams.

Are you or your child looking to play in the highest division in NFA competitions in 2019?

2019 Junior Division 1 and Premier League Trials

are coming soon!

Premier League:Thursday 22 Nov 29 Nov 6 Dec 13 Dec - 7PM at Andromeda.

U17 Boys - 4 and 11 Dec, 8pm at Andromeda

U16 Boys - 3 and 10 Dec, 8pm at Andromeda

U16 Girls - 4 and 11 Dec, 7pm at Andromeda

U14 Boys - 3 and 10 Dec, 7pm at Andromeda
A Shout Out to........
the following people - all Volunteers - for the time and effort they have given to help run the Club this year.
⚽ our wonderful Committee, who take on an ever-growing workload;

⚽ our awesome coaches, who train, develop and inspire our players of all ages;

⚽ our fantastic managers, who organize our teams superbly and act as our conduit to them;

⚽ and to our the sponsors, community members, players & families who supported the club.
Your contribution is very much valued and strengthens our community and club. THANKYOU! THANKYOU! THANKYOU!
Kickoff Kids and Miniroo Presentation
Wow! It would be wonderful to be able to bottle the energy and enthusiasm of our youngest club members. Over 200 members climbed, slid, bounced and played at Go Bananas on 22 September before receiving their trophies and feasting on chips and chicken nuggets. The smiles on the kids' faces was testimony to their enjoyment.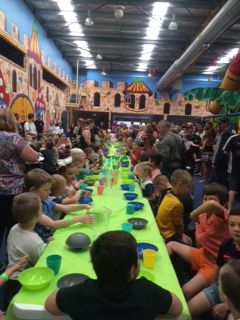 Senior Annual Dinner & Presentation
As the doors opened, laughter filled the air, welcoming the 115 club members and guests at Peachtree for the 2018 Dinner and Presentation. The night settled into the presentations where team awards were presented and club awards were eagerly anticipated before being presented.
It was a night to celebrate.
Congratulations to
Senior team of the year: AAW Div 4
Sportswoman of the year: Shanice P.
Senior clubperson of the year: Jai P.
10 Year service Awards:
Paul D., Kassidy M., Ian C., Derek J.,
15 Year service Awards:
Kimberley C., JP., Geoff H., Ryan S., Guy T., Stephen D.,
25 Year service Award:
Steve S.
Junior Comp Team Presentation
130 junior team competition players changed from kicking balls to bowling balls yesterday at Penrith Bowling Centre for their presentation. The teams came together to celebrate their friendships formed during the year and their achievements in 2018. Many thanks to everyone who joined in to help make the day a success.
There were also some club awards presented at the celebration. Congratulations to
Junior team of the year: U17 Div 2
Junior Clubperson of the year: Lachlan T.
Coach of the year: Russell D.
10 Year service Awards:
Matthew M., Mark P., Justin D., Jayden K., Daniel K., Connor H., Cody B., Brandon M., and Blake W.
U12 - U17 Coaches and Managers:
Our sincere thanks for the neverending work you have done throughout the season.
U13 Div 2 TEAM WIN CTS FINAL
Our U13 Div 2 team focused on one goal - to win the CTS Final, and they did it, defeating Blaxland 3-1 in an awesome match. Congratulations to Russell, Andrew and the boys. You have done yourselves and the club proud. Time to celebrate!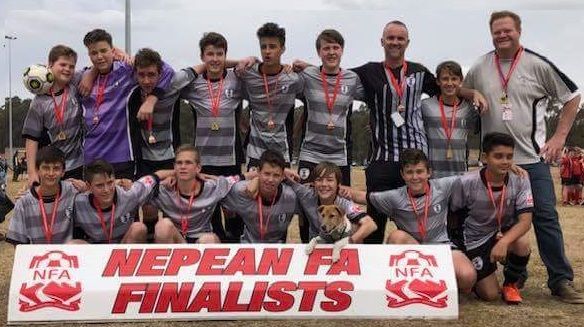 For most - Time to KICK BACK and CELEBRATE WITH YOUR TEAM MATES.
Most of our competition teams have now finished their 2018 matches. For many teams, it was an anxious weekend playing and waiting to hear the results from other grounds. We wait with anticipation on word from NFA regarding finals. Our Kickoff Kids and the Miniroo teams have one last round on 18 August, 2018.
In September, we celebrate our achievements with our Club Fun Days and Presentations. Flyers are now available for each event. Please click on the link to access the flyers.
8 September, 2018: Junior Competition team (U12-U17) at Bowling and Laser Tag.
15 September, 2018: All age and O35 teams at Peachtree
22 September, 2018: Kickoff Kids and Miniroo (U5-U11) teams at Go Bananas.
We look forward to enjoying the events with our club members.
U8 and U9 Gala Day:
19 August, Cook Park, St Marys: Invitations were sent to teams to participate in the association Gala Day, conducted by NFC. Some teams accepted the offer and had a great time.
Congratulations to our AAW Div 5 team and AAW Div 4 teams:
Both teams have won their league competitions. Well done ladies. You have demonstrated true sportsmanship along your journey. The smiles on your faces proved to all who saw that your enjoyed playing within your teams. Sincere congratulations!
Kickoff-U11 Presentation
Save the Date: 22 September at Go Bananas, St Marys
Kickoff- U7: 9:30am-11am
U8-U9: 11am-12:30pm
U10-U11: 12:30pm-2pm
U12 - U17
Save the Date: 8 September at Penrith Bowling Centre
12noon - 2:30pm
Senior Presentation:
Save the date: Saturday 15 September 2018 at Peachtree Hotel.
Tickets are $35 each and are available to purchase at the canteen until 18 August 2018. Please understand that all tickets are prepaid. The club accepts EFTPos or cash for payment of tickets.
Andromeda Just got a Whole Lot Brighter.
The club was very pleased when it received notification that our grant application had been successful. Then came the business of working with PCC and FNSW to make the project come alive. After 10 months, last Tuesday 17 July at 5pm Stage 2 of our night light project lit up as the new lights were turned on.
Onward we march! Over the coming weeks, you'll notice EVERYTHING in the canteen being packed away, This is in preparation of the canteen upgrade which is due to start in September and is also part of a successful grant.
Green Weekend raised $700 for Spinal Cord Injury Research.
Thank you to everyone for your support of this worthwhile project that has significant meaning for our club. Many thanks to the companies who supported the weekend by donating prizes for our guessing competitions.
Congratulations to the winners:
| | |
| --- | --- |
| Handbag | Blair |
| Kelly's Brasserie Voucher | Claudia |
| Kelly's Brasserie Voucher | Kiara |
| Kelly's Brasserie Voucher | Jai |
| Ultimate Paintball Party | Cindy |
| Big 4 Holiday Pack | Leanne |
| Jenolan Caves Voucher | Saniba |
| Aust National Maritime Museum | Hoops |
| | | |
| --- | --- | --- |
| | | |
| Andromeda at Zero. | Green Weekend. | Andromeda just got a whole lot brighter! |
Defibrillator for Community Wellbeing.
Yes! It is here. Thanks to everyone who helped make it a reality. Nice to know the club has it if it is needed.
Working together, we made this happen!
RESPECT is everyone's game winner. The club has a zero tolerance for disrespectful behaviour.
As you enjoy our beautiful game, please remember RESPECT is the key word.
Reward good play by both teams with applause; if you can't then shoosh!

Show respect to players,club and match officials. Remember it's their game too.
A MustWatch Video for all Football parents.
Or perhaps this one!
A SPECIAL WORD OF THANKS TO OUR COMMITTEE, COACHES AND MANAGERS:

To our active committee members, an enormous THANKYOU. So much work, so many hours, phone calls, emails - your work is appreciated.

To our coaches and managers - THANKYOU. You are the cement that builds the teams and holds the teams together.
2018 Club Hankbook
It is important that clubmembers are familiar with the club handbook. Please click here for the 2018 CUFC Club Handbook.
Coaching Couses
Coach education courses are available. Please visit NFA website for details of courses.
*********************
2017 - Remember the season.
The 2017 Annual Report is a way to remember the season. Click here to view.
************
Zero tolerance for abuse: both on the park and the sideline.
Field Status
ANDROMEDA
Hire period has ended
Please avoid any wet patches or worn patches.
Safety for Everyone at Andromeda - click here for the guide.
There is to be no training on worn areas, wet areas & in penalty areas.
Where possible please use off field areas.
SHERRINGHAM FIELDS
Hire period has ended
(Update 9/9/ 2018)