NEWS FLASH:
26 March 2019
ROUND ONE IS NOW NIPPING AT OUR HEELS.
Fields are marked. Canteen stocked. Sun is shining. Shorts and socks are in. Here we go!
Fixtures for the first 3 rounds have now been published on the Fixtures Tab of NFA website. Please remember to adjust the dates to access the three rounds. Good luck everyone!
A timely word of thanks to the club members who have assisted in the process! Your assistance and support are greatly appreciated.
21 March 2019
Unfortunately due to the recent wet weather, ANDROMEDA has limited area for training.
The Western field is available to use but the Eastern field remains closed.
The club thanks its members and the community for their understanding and care for the venue.
Thank you Stuart Ayres who has generously provided our club with $7500!
It's great having the NSW Minister for Sport living in our community. He has contributed to many projects for us including his support for the recent top marking of the western field, installation of the stage 2 field lighting, upgrade of the electricity supply and the upgrade of the canteen through the Asian Cup Legacy Fund Grant.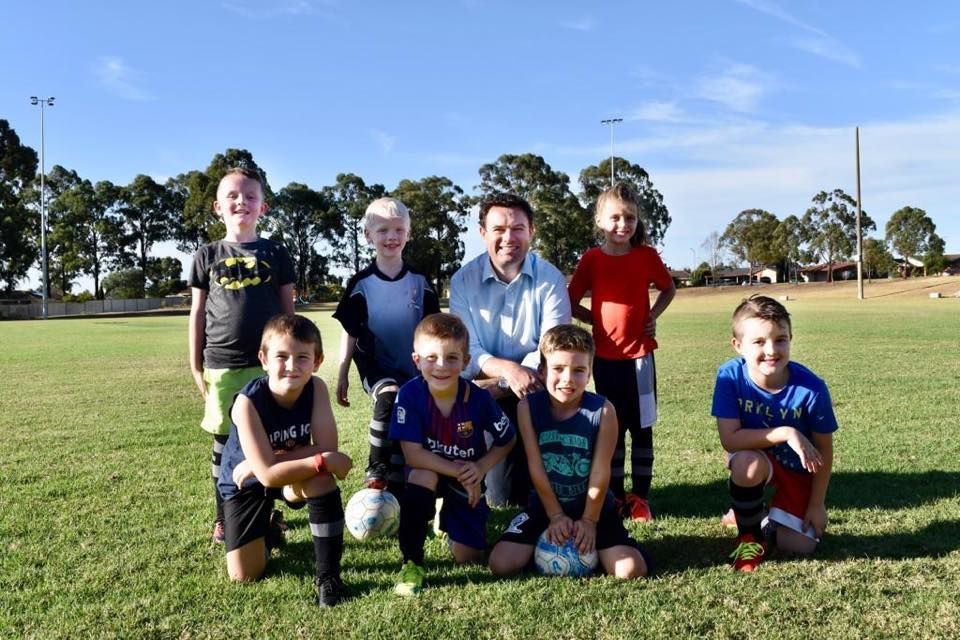 VALE ROB HAMILTON.
It is with great sadness that we advise our club and community members of the passing of one of its life members, Robert Hamilton. Rob played a vital role in the administration of the club for many years and was a frequent visitor to Andromeda since his retirement from the committee.
Our heart felt condolences are extended to Cindy and her family at this difficult time.
Robert's family invites those who knew him well and wish to pay their respects to join them at the service next Monday.
May he rest in peace.
BUILDING A STRONGER COMMUNITY - new members always welcomed.
Please contact us to find out ways that you can help build a stronger community through being part of our club. Opportunities for players, administrators and supporters.
MASSIVE SHOUT OUT FOR OUR COMMITTEE.
Getting the teams on the park - an easy process? Not really. It is very time consuming with many, many hours of behind the scenes work. Without the massive effort, no one plays and there is no club. Thank you to every committee member and club member who has pulled up their sleeves to ensure that the club flourishes for its members and the community.
Coach Accreditation:
CUFC encourages all coaches to seek accreditation. For 2019, all Kickoff Game leaders, U5-U10 coaches and all Division One coaches MUST be accredited.
The link to register for all courses is www.playfootball.com.au/coach/find-a-course
REGISTRATIONS ARE NOW OPEN FOR 2019 WINTER PLAYING SEASON.
There's a new registration site this year www.playfootball.com.au/register
EVERYONE will need to upload a new photo but luckily it's all mobile compatible so just take a passport style selfie.
Reminder to all parents to take advantage of the Active Kids Voucher!
www.service.nsw.gov.au/transaction/apply-active-kids-voucher
Also, every coach, manager and committee member MUST complete a working with children check (if you've done it before, you should check it's still valid)
www.kidsguardian.nsw.gov.au/chi…/working-with-children-check
Rego fees for U5-U16 include all match fees!
Match fees for Prems are $10/match and all other Sunday teams are $7/match
The specified age groups are the age that your child is turning in 2019. E.g. U10 is for children born 2009.
Registrations are also open for our Kickoff Program [U4-U5]. Head to https://membership.sportstg.com/regoform.cgi?formID=83804&programID=44492 to register. Rego fee for Kickoff Program $60.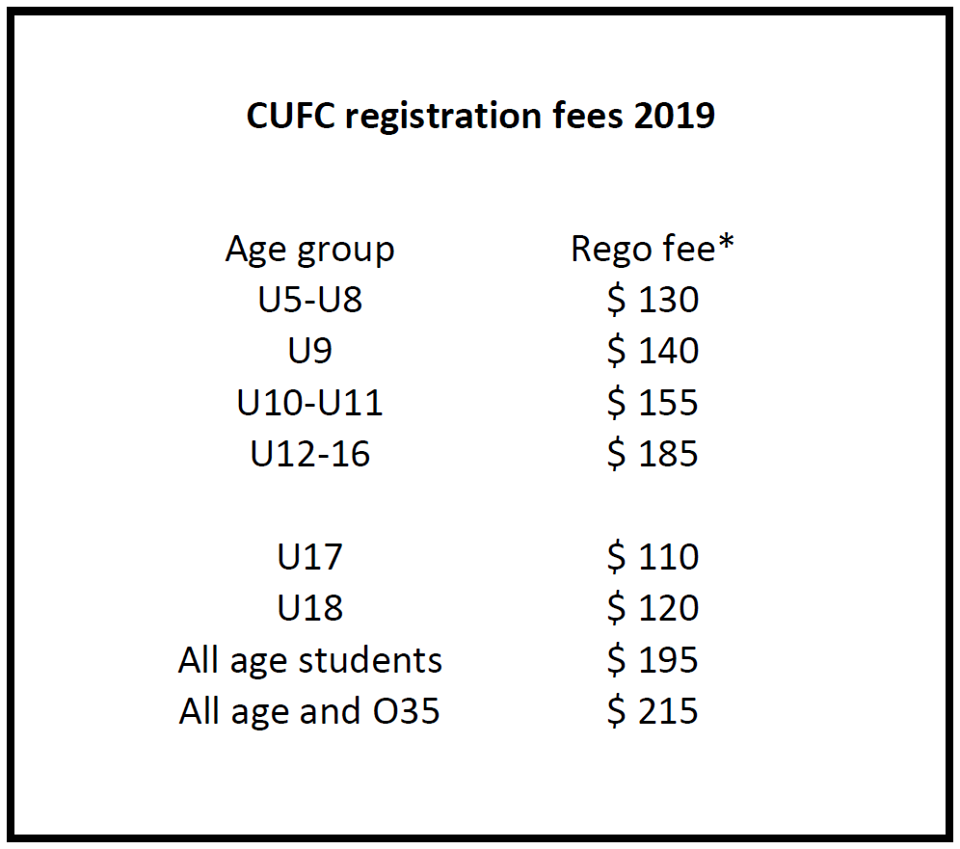 A Shout Out to........
the following people - all Volunteers - for the time and effort they have given to help run the Club this year.
⚽ our wonderful Committee, who take on an ever-growing workload;

⚽ our awesome coaches, who train, develop and inspire our players of all ages;

⚽ our fantastic managers, who organize our teams superbly and act as our conduit to them;

⚽ and to our the sponsors, community members, players & families who supported the club.
Your contribution is very much valued and strengthens our community and club. THANKYOU! THANKYOU! THANKYOU!
Kickoff Kids and Miniroo Presentation
Wow! It would be wonderful to be able to bottle the energy and enthusiasm of our youngest club members. Over 200 members climbed, slid, bounced and played at Go Bananas on 22 September before receiving their trophies and feasting on chips and chicken nuggets. The smiles on the kids' faces was testimony to their enjoyment.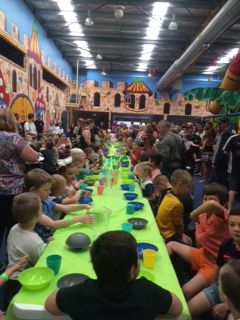 Senior Annual Dinner & Presentation
As the doors opened, laughter filled the air, welcoming the 115 club members and guests at Peachtree for the 2018 Dinner and Presentation. The night settled into the presentations where team awards were presented and club awards were eagerly anticipated before being presented.
It was a night to celebrate.
Congratulations to
Senior team of the year: AAW Div 4
Sportswoman of the year: Shanice P.
Senior clubperson of the year: Jai P.
10 Year service Awards:
Paul D., Kassidy M., Ian C., Derek J.,
15 Year service Awards:
Kimberley C., JP., Geoff H., Ryan S., Guy T., Stephen D.,
25 Year service Award:
Steve S.
Junior Comp Team Presentation
130 junior team competition players changed from kicking balls to bowling balls yesterday at Penrith Bowling Centre for their presentation. The teams came together to celebrate their friendships formed during the year and their achievements in 2018. Many thanks to everyone who joined in to help make the day a success.
There were also some club awards presented at the celebration. Congratulations to
Junior team of the year: U17 Div 2
Junior Clubperson of the year: Lachlan T.
Coach of the year: Russell D.
10 Year service Awards:
Matthew M., Mark P., Justin D., Jayden K., Daniel K., Connor H., Cody B., Brandon M., and Blake W.
U12 - U17 Coaches and Managers:
Our sincere thanks for the neverending work you have done throughout the season.
U13 Div 2 TEAM WIN CTS FINAL
Our U13 Div 2 team focused on one goal - to win the CTS Final, and they did it, defeating Blaxland 3-1 in an awesome match. Congratulations to Russell, Andrew and the boys. You have done yourselves and the club proud. Time to celebrate!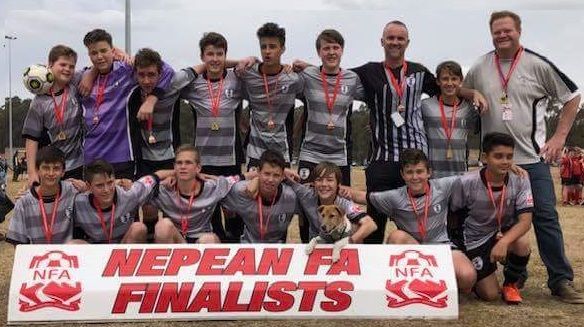 Congratulations to our AAW Div 5 team and AAW Div 4 teams:
Both teams have won their league competitions. Well done ladies. You have demonstrated true sportsmanship along your journey. The smiles on your faces proved to all who saw that your enjoyed playing within your teams. Sincere congratulations!
Andromeda Just got a Whole Lot Brighter.
The club was very pleased when it received notification that our grant application had been successful. Then came the business of working with PCC and FNSW to make the project come alive. After 10 months, last Tuesday 17 July at 5pm Stage 2 of our night light project lit up as the new lights were turned on.
Onward we march! Over the coming weeks, you'll notice EVERYTHING in the canteen being packed away, This is in preparation of the canteen upgrade which is due to start in September and is also part of a successful grant.
| | | |
| --- | --- | --- |
| | | |
| Andromeda at Zero. | Green Weekend. | Andromeda just got a whole lot brighter! |
Defibrillator for Community Wellbeing.
Yes! It is here. Thanks to everyone who helped make it a reality. Nice to know the club has it if it is needed.
Working together, we made this happen!
RESPECT is everyone's game winner. The club has a zero tolerance for disrespectful behaviour.
As you enjoy our beautiful game, please remember RESPECT is the key word.
Reward good play by both teams with applause; if you can't then shoosh!

Show respect to players,club and match officials. Remember it's their game too.
A MustWatch Video for all Football parents.
Or perhaps this one!
A SPECIAL WORD OF THANKS TO OUR COMMITTEE, COACHES AND MANAGERS:

To our active committee members, an enormous THANKYOU. So much work, so many hours, phone calls, emails - your work is appreciated.

To our coaches and managers - THANKYOU. You are the cement that builds the teams and holds the teams together.
2018 Club Hankbook
It is important that clubmembers are familiar with the club handbook. Please click here for the 2018 CUFC Club Handbook.
Coaching Couses
Coach education courses are available. Please visit NFA website for details of courses.
*********************
Zero tolerance for abuse: both on the park and the sideline.
Field Status
ANDROMEDA
CLOSED UNTIL FURTHER NOTICE
Please avoid any wet patches or worn patches.
Safety for Everyone at Andromeda - click here for the guide.
There is to be no training on worn areas, wet areas & in penalty areas.
Where possible please use off field areas.
SHERRINGHAM FIELDS
OPEN
(Update 17/3/ 2019)