Archived News
Miniroo Presentation and the Junior Competition team presentation.
Miniroo Presentation - 21 October 2017 at Jamison Park. Many thanks to everyone who joined in the fun and activities to make the Miniroo Presentation a special day for our youngest club members.
Junior Competition Team Presentation 22 October 2017 at Footgolf.
Wonderful to see all our club members again.
Few special awards:
Coaches of the year: Dylan and Aaron
Junior Team of the Year: U14 Girls
Club Community Service Award: Hayley
10 Year Service Awards: Matthew D., Samuel M., Corey P. and Zachary H.
A very special thanks to the club committee and club members who helped at both of the presentations. You are amazing!
Saturday 10 February 2018: Miniroo and Junior muster (U5-U16) at Andromeda.
All miniroo and junior parents should attend.
Excellent time to purchase shorts and socks.
New Cranebrook Supporter shirts will also be available for purchase.
9am - U5 and U6
9:30am - U7
10am - U8
10:30am - U9
11am - U10
11:30am - U11
12pm - U12
12:30am - U13
1pm - U14 and U14G
1:30am - U15, U16 and U16G
Please register online beforehand.
CUSC Annual Dinner & Senior Presentation:
23 September, 2017 at Peachtree Hotel.
What an amazing night! Thankyou to everyone who joined us to celebrate our 2017 achievements. This year we celebrated at Peachtree Hotel, one of the club's major sponsors. Thank you to Jess and the staff.
Congratulations to our Annual Award recipients.
10 Year Service Awards:
Fiona B. and Rossli S.
15 Year Service Awards:
Jarryd W., William M. and James M.
25 Year Service Awards:
Brendan K. and Graham T.
Senior Team o the Year:
All Age Men Div 3
Sportswoman of the Year:
Leanne S.
Club Community Service Award:
Wayne T.
Senior Clubperson of the Year:
Brendan V.
***********************
CST Finals Weekend.
As Jamison Park came alive over the weekend, Cranebrook United SC shone through just like the sun. Perfect weather to enjoy some perfect football. Thanks to the club members and their families who came down to support our teams.
CST Finals Results -
Sat 26th August 2017
9am U12 Div 5 play Jamisontown on field 3 Result Win to CUSC 7-6 Win on Penalties
9:30am U12 Div 4 play Richmond on field 8 Result Win to CUSC 2-1 Win in extra time
12noon U14 Dv 3 play Blue Mountains on field 8 Result Win to CUSC 7- 0
12noon U14 Div 4 play Wollemi on field 6 Result Win to Wollemi 2-0
12:30pm U14Girls Div 2 play Penrith on field 9 Result Win to PFC 4-5 Win on Penalties
Sun 27th August 2017
9am AAW Div 6 play Colo on field 6 Result Win to Colo 2 - 0
11am AAW Div 5 play St Clair on field 6 Result Win to Cranebrook 2 - 1
11am O35 Div 4 play Glenmore Park on field 7 Result Win to Cranebrook 2 - 0
1pm AAW Div 3 play Glenmore Park on field 8 Result Win to Cranebrook 2 - 1
1pm O35 Div 2 play Penrith RSL on field 1 Result Win to Cranebrook 3 - 1 in extra time
Great football played by some very nervous players. Well done to every CUSC player in the finals matches. Each was a fine ambassador for our club.
Cranebrook United SC Children Play at WSW match
25 November 2016
CUSC will be represented tonight at the WSW match at Spotless Stadium as some of our miniroo players take to the pitch at half time. Keep your eyes ready as these up and coming young players demonstrate their skills.
MINIROO PRESENTATION
Nothing can stop our Miniroos!
| | | |
| --- | --- | --- |
| | With grey skies overhead, the positive attitude continued to deliver a remarkable day for our Miniroo players and their families. The players were treated to games and fun, food and drinks, awards and prizes, to make the day enjoyable for everyone and provide an opportunity to meet once again as our Football Family. | |
It had been a testing time with the organisation of the event and the club thanks everyone for their understanding. The 'we can make this work' attitude was fantastic.
Special thanks to Glenn, Brendan, Tony, Paul, Mal, Janet, Eija, Fiona, Leanne, David, Kerry, Scott, Jason and Gail for your work in making the day very special for our Football Family.
Junior Competition Team Presentation
Perfect weather for our Junior Team presentation with the teams, coaches and managers enjoying Footgolf on Sunday 16 October. Thank you to the club members who helped celebrate some amazing achievements in 2016. The club is proud of every team and every player.

Junior Team of the Year: U13 Div 5 team

Club Coach of the Year: Miro

Congratulations to the players, Miro and Caz.

Special thanks to Tony, Brendan, David, Eija, Fiona, James, Jason, Scott and Gail for your terrific effort today. Many thanks to the club members who helped with the preparations.
Senior Presentation.
Senior presentation was a night filled will smiles and laughter. Thanks to the senior teams for your support.
15 year service awards: Aaron Hammond & Leanne Shiagetz
25 year service award: Rob Horne
Senior Team of the Year: Over 35 Division 4 team
Senior Sportswoman of the Year: Fiona Bax
Club Community Service Awards: Jessikah Terry & Paul Deheaume
Senior Club Person of the Year: Janet & Mal Board
Congratulations to the club award winners and to the team award winners. Thank you everyone for your contributions to make the night a success.
And Sunday was a mixed bag...........
A straight win for Rhys' AAM Div 10 team. A penalty shoot out for our AAM Div 6 that did not go our way. And a defeat for Aaron's AAM Div 12 team. Each game was full of highlights. Every player gave it their best. Each player had the glory of participating in the finals.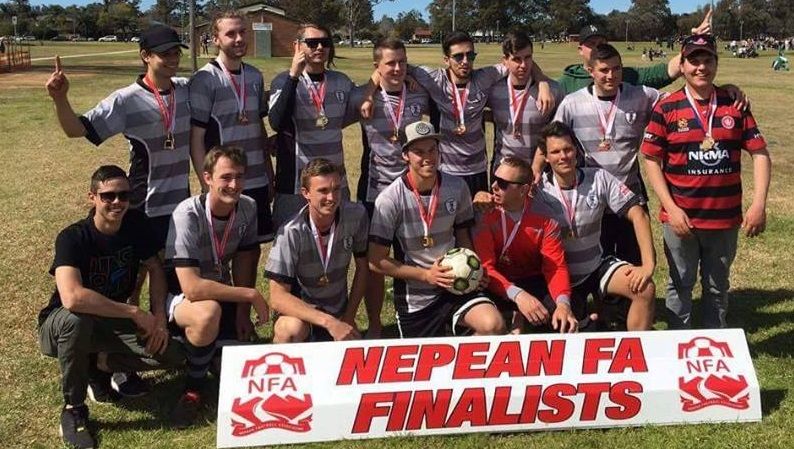 The results are in for Saturday finals.
So proud of our teams. Adam's Fabulous U14's defeated Glenmore Park 2-1 while Henry's Sensational U16's defeated Wilberforce 4-1. Well done boys. What a wonderful day! Thanks Nicole and Brad for managing the teams, and a BIG THANKYOU to the supporter fanbase for cheering the teams on.
Its a Wrap for the Miniroos.
Andromeda came alive on Saturday 20 August as our Miniroos played their final games for the season. The smiles on the children's faces matched the sunshine, and quiet fittingly, as the last of the equipment was packed away Mother Nature shed a tear also.
Congratulations to everyone of our miniroo players who participated this year. The club is very proud of your efforts. Many thanks to the supporters for your enthusiasm, to everyone who helped at the canteen, on the BBQ, setting up the fields, ensuring the children got to the games, washed the shirts, prepared fruit or drinks. And a very special THANKYOU to our wonderful coaches and managers. What a wonderful team effort from so many!
MOTHER NATURE HAS NOT BEEN KIND.
Unfortunately with all the rain over the past week, Andromeda is out of action for the weekend of 6-7 August TOTALLY. Please check details for matches on NFA draw website for updates. For those lucky enough to play, try to stay dry and warm. Let's all wish for some serious sunshine!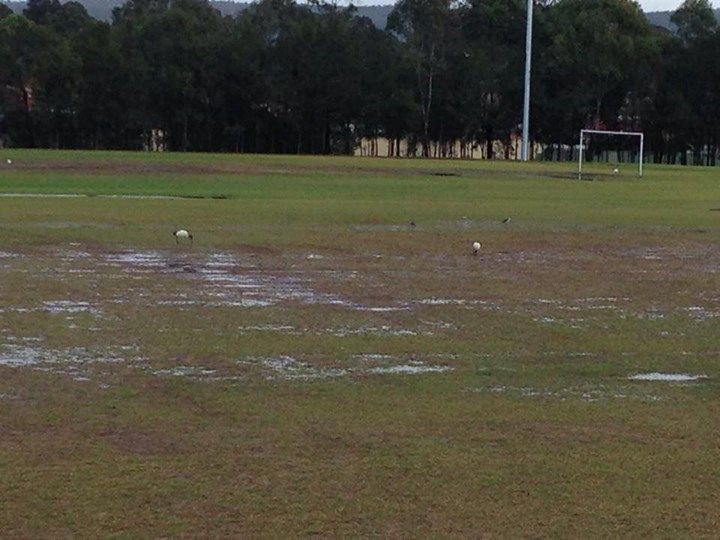 League Season.

Congratulations to the 2016 League Winners.

* Over 35 Div 4

* AAM Div 10 White

* AAW Div 3 Black

* Under 13 Div 5
Each of the competition teams has done an amazing job. Thank you to the coaches and managers for your work, and for the players who have inspired each other thoughout the season. The club is extremely proud of every team. Bring on the Finals Series .............
MANY THANKS TO EVERYONE FOR YOUR SUPPORT FOR GREEN SOCKS.
TERRIFIC EVENT WHICH WILL CONTINUE ON...........
Green socks.......green jelly ......... green cupcakes........ green smiley biscuits.......... green cordial........green lollies.......
| | | |
| --- | --- | --- |
| Green Sock Day | 'Green Socks Weekend' | Green sock day at Richmond |
HAPPY MOTHERS' DAY to all our football mums!

Mothers and daughters playing along side each other.

What a wonderful way to celebrate Mothers' Day!